What is it like to attend an Agile Open event?
Grow as an Agile Practitioner
It has been said that an open space conference, also called an unconference, contains all the things that happen in between the sessions at a regular conference. The networking with peers, the focused conversations around mutual topics of interest and the tremendous learning that happens when you talk to people with a wide variety of experience.
Marketplace of Ideas
An open space conference does not have a list of pre-selected speakers and topics. Instead, the attendees build the agenda around the topics they are interested in at that time. We call this the building of the marketplace of ideas. Our event has nine sessions, usually with five or six topic choices for each session. When the marketplace of ideas is complete, the sessions are listed out in a grid with time on the Y-axis and location on the X-axis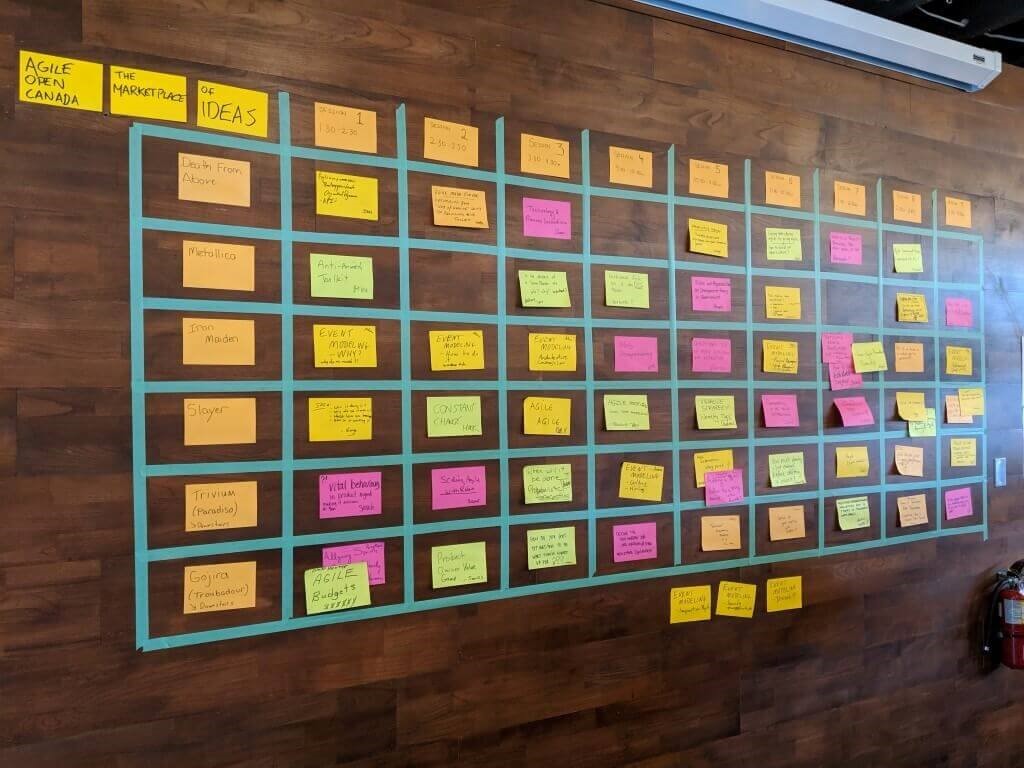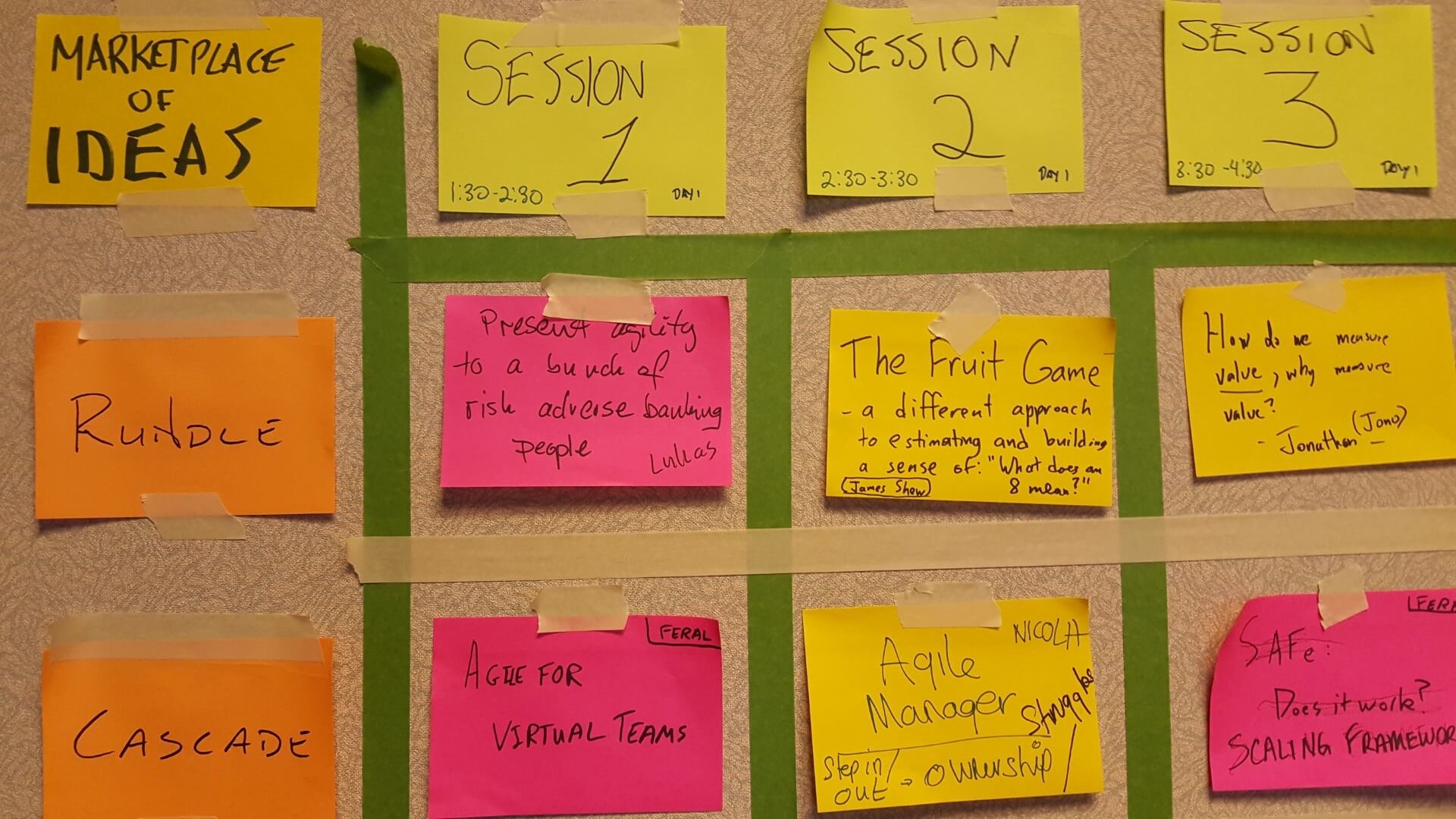 For the remainder of the conference, attendees will move around sessions playing a variety of roles. An open space has one law, five principles and five roles
One Law
Law of Two Feet
If at any time during our time together you find yourself in any situation where you are neither learning nor contributing, use your two feet, go someplace else.
Five Principles
Whoever comes is the right people
Whenever it starts is the right time
Wherever it is, is the right place
Whatever happens is the only thing that could have, be prepared to be surprised!
When it's over, it's over
Roles
Convener - Suggests an issue of concern to the group. Each convener places their card on the wall and chooses a time and a place to meet
Participants - participate in a workshop
Recorders - capture the important points in writing
Bumble bees - "shop" between workshops
Butterflies - take time out to reflect
Getting Warmed Up
To get the day started, Agile Open volunteers lead several warm-up sessions so that people can get introduced to each other. This is followed by a session of lightning talks. Lightning talks are short talks that are time-boxed to 3 minutes. They are unstructured, informal and impromptu. Feel free to prepare something short, improvise, or just stand up and talk about what you hope to learn at Open Space Canada.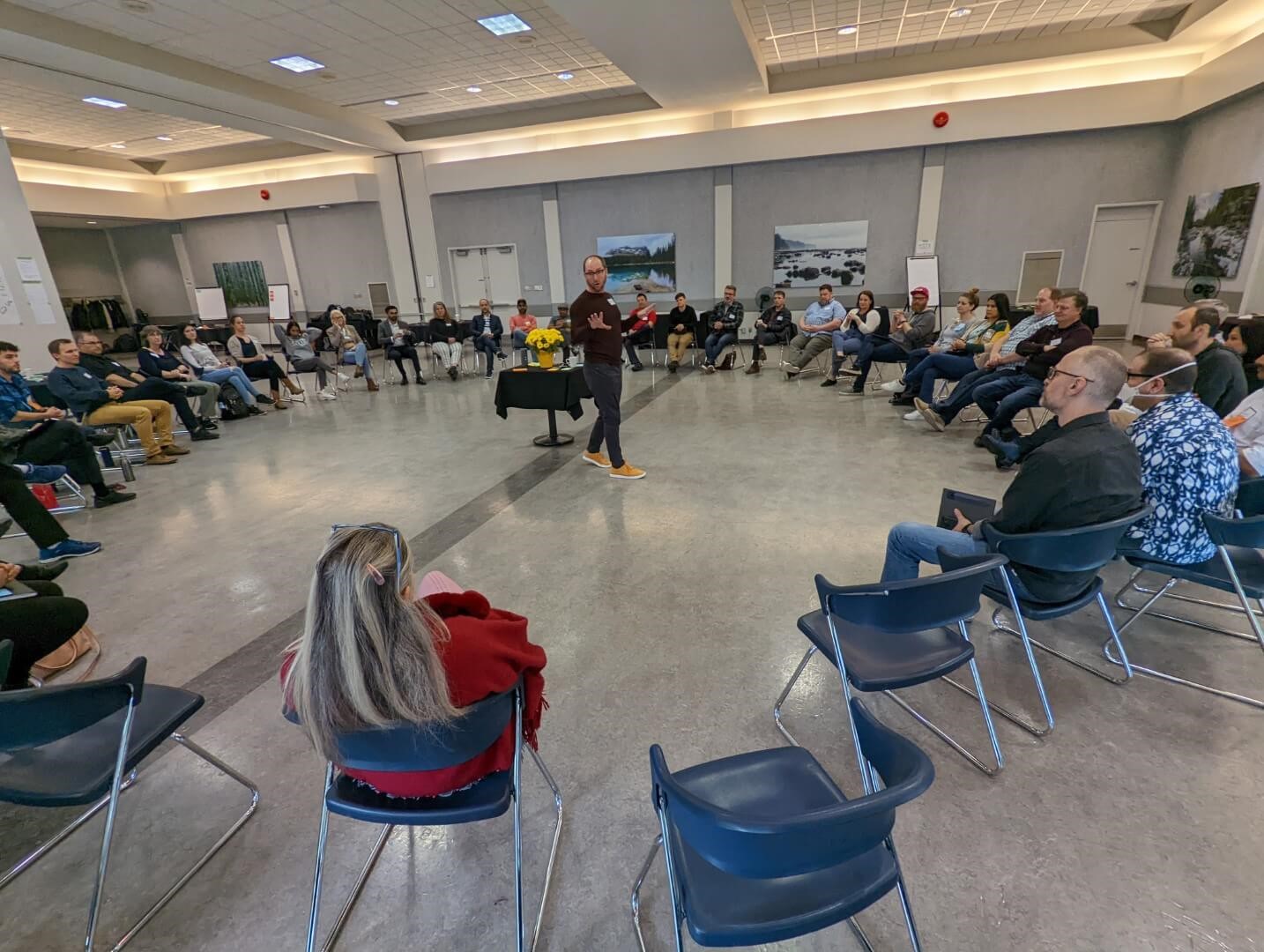 Sessions
Over the next day and a half, you will have the opportunity to choose from the sessions that have been generated on the marketplace of ideas. Usually there are 5-6 choices for each session meaning that you will almost always be torn between several fascinating options! Session break-outs can be just two people, or sometimes over ten. As the Law of Two Feet states, at any time you can move to another session.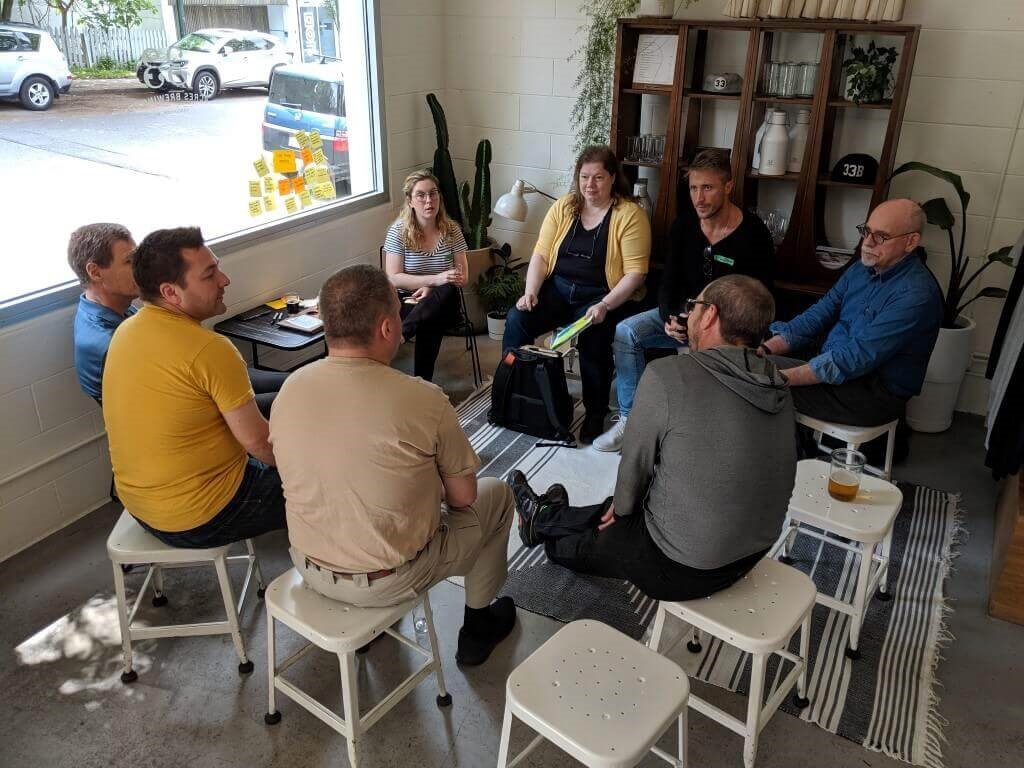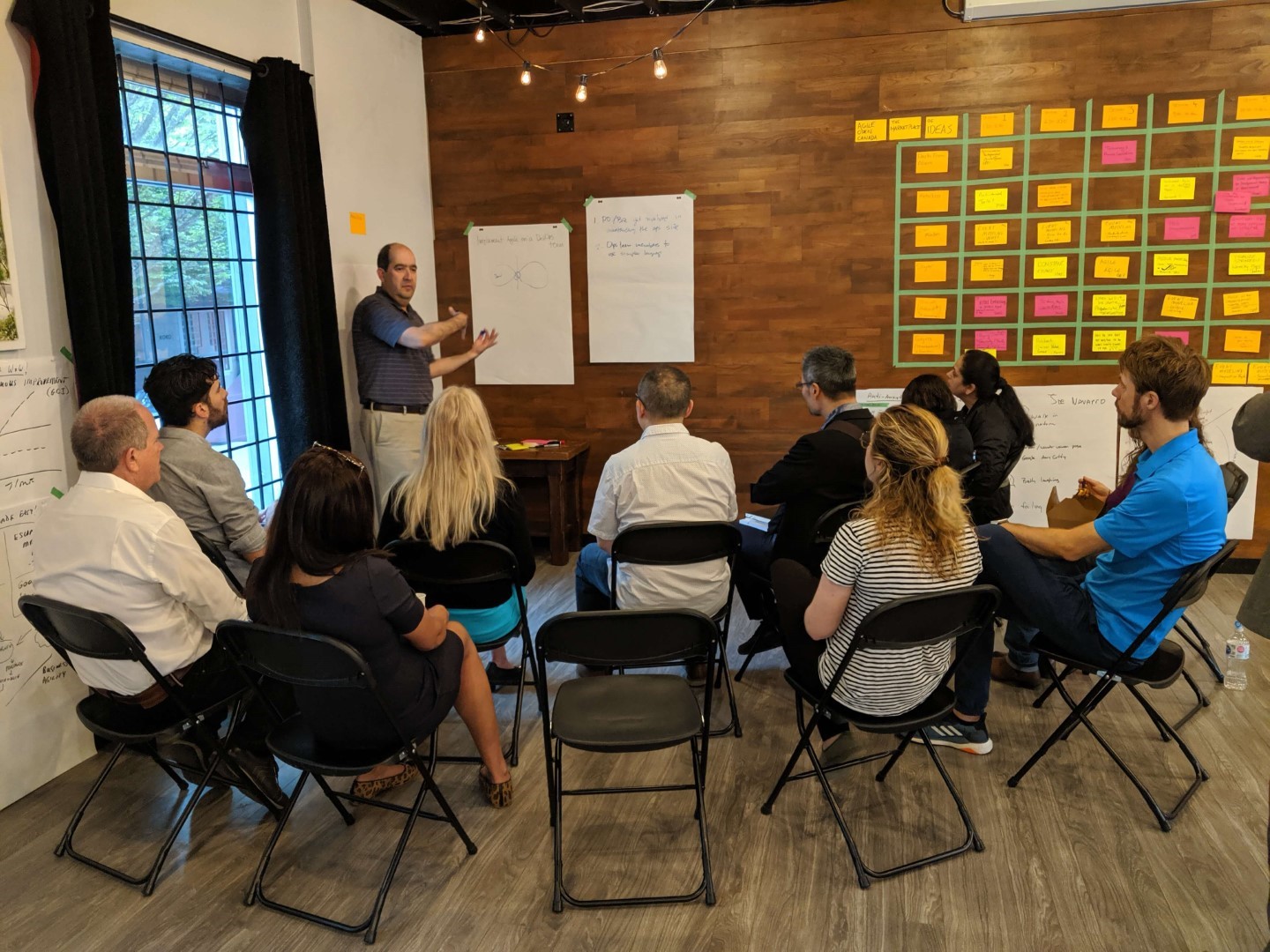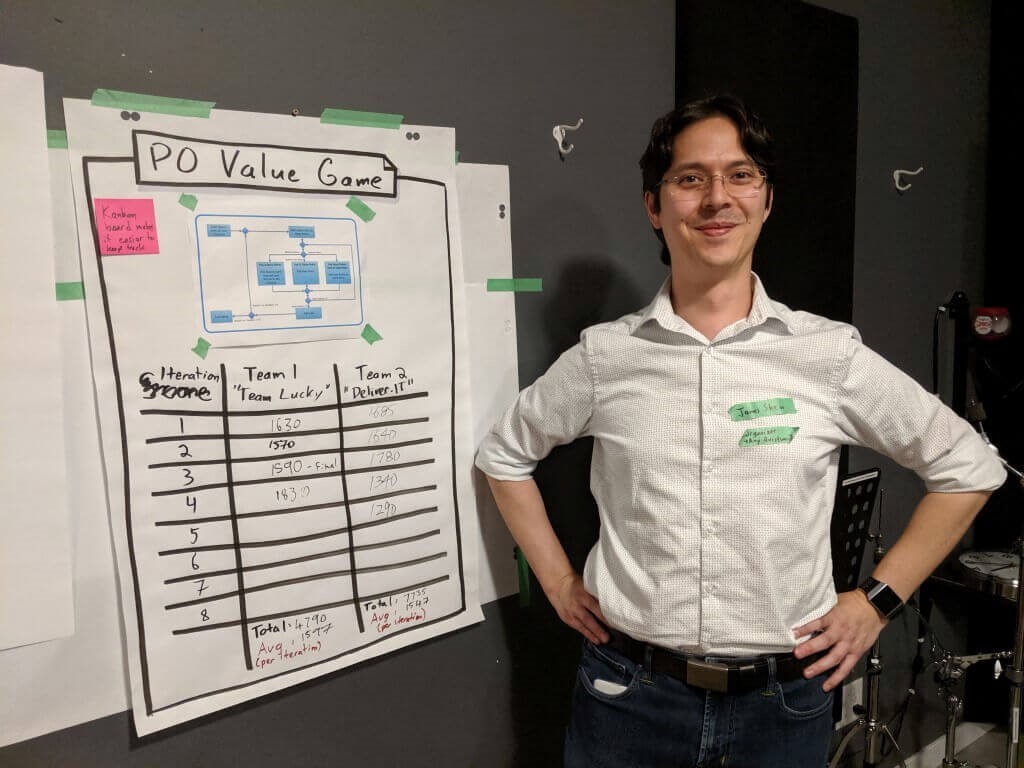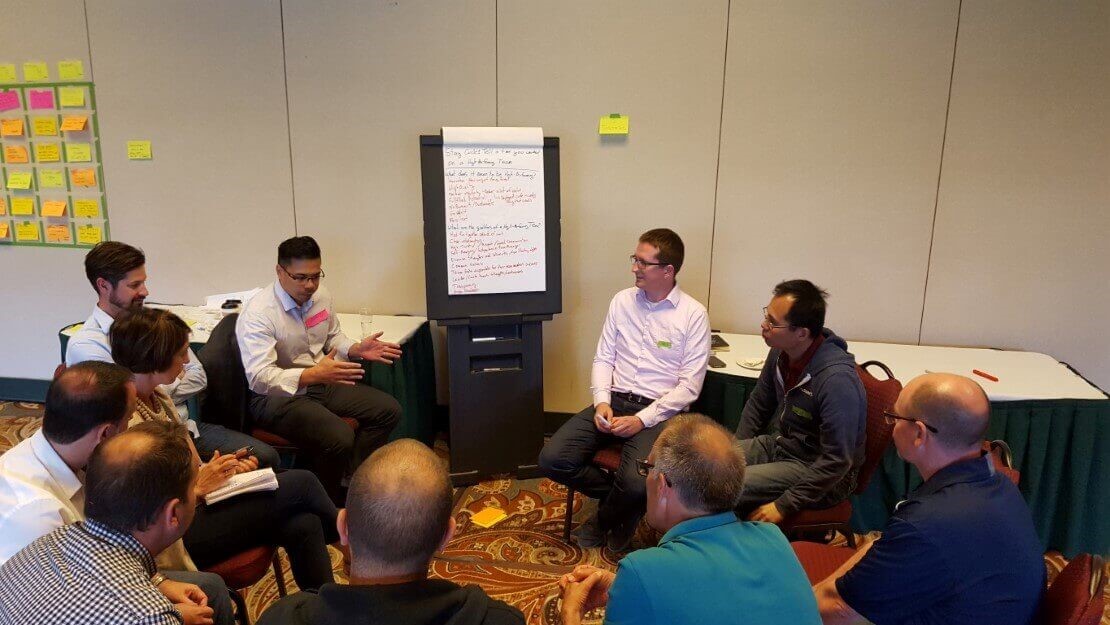 Closing the Space
At the end of two days, we have a retrospective on our time together, close the space and say "See you later" to all the new people we have met.